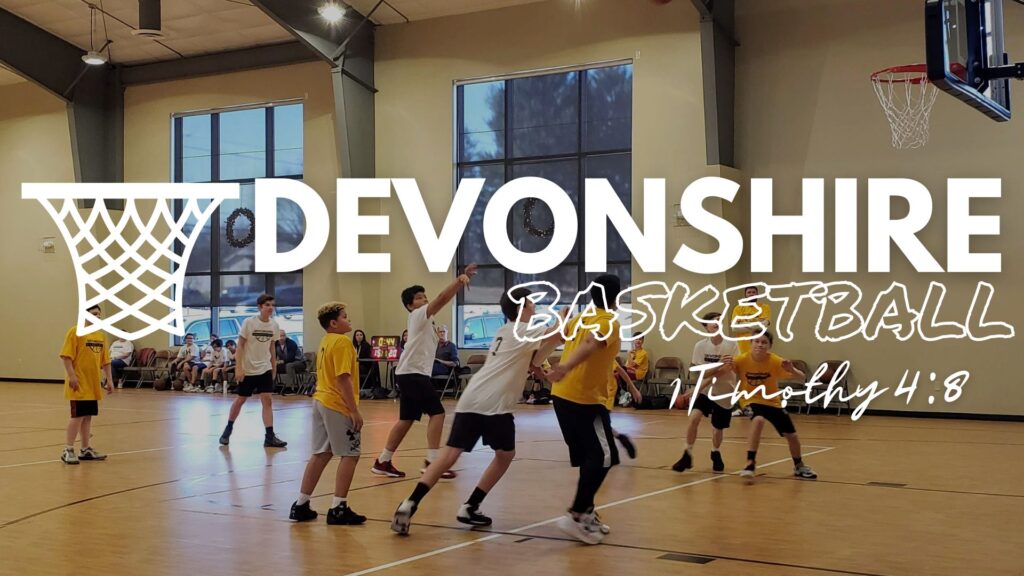 ---
ALL THE SPOTS HAVE BEEN FILLED FOR THE 2022-2023 SEASON.
If you would like to be added to our wait-list or have any questions, please email [email protected]
---
This winter, 2022-2023, Devonshire Church is providing a youth basketball league that is available to elementary boys grades 5-8. There will be two divisions (grades 5-6, and grades 7-8)
The focus of our program is to offer boys (grades 5-8) the opportunity to learn and enjoy the game of basketball in a safe, supportive, and fun environment conducive to developing both athletic and team skills, as well as building Christlike character. We believe that players will have fun learning the rules, strategies, and fundamentals of the game of basketball while developing and strengthening important life skills and personal character traits such as: Responsibility, Teamwork, Communication, and Leadership.
---
What is the level of competition?
We are open to all skill levels. From beginner to advanced, we are a rec league open to all stages of development. Kids will not be turned away because of their skill.
Cost
Grade 5-8: $125 per player (includes cost of T-shirt, practice times, 10+ weeks of recreational basketball games, and league fees)
---
Age Brackets / Important Dates
Age: Grades 5-6
Registration: October 1 – October 25
League Play & Playoffs: December 3 – March 4
Age: Grades 7-8
Registration: October 1 – October 25
League Play & Playoffs: December 3 – March 4
How will my kid be placed on a team?
There will be a player draft following the evaluations. All registered players will participate in an organized practice for an evaluation.
Player Evaluation Day will be communicated after registrations close but will be held on November 16.
It is not a tryout, as all registered players will be drafted to a team. Players unable to attend the evaluation or late registrations will be placed on a team at the director's discretion.
For grades 5-8, practice times will most likely be Tuesday/Wednesday/Thursday evening for 45 minutes to an hour between 5:30 pm and 9:30 pm. Game times will be on Saturday between 8 am and 3 pm.
Is there a deadline to sign up?
The registration period is from October 1 to October 25. There are 40-60 spots available in each division. Once we reach capacity for a division, we will begin a waitlist.
---
General Information
Please wear comfortable tennis/basketball sneakers that won't scuff up the gym floor.
Please bring a ball & remember to put your name on it.
Practices will begin with prayer and a brief devotional.
Games will open with prayer.
---
Coaching
Players will have fun while learning the rules, strategies, and fundamentals of the game, but we also focus on important life skills and character traits such as responsibility, teamwork, communication, and leadership. Each player will have a Christian role model in their coach to demonstrate these qualities.
COVID Exposure
If a player is feeling sick for any reason, please stay home. If a player may have been exposed through contact with a COVID-positive, or COVID-probable person, we ask that the player and their family refrain from attending any games or practices.
If a player or family member becomes COVID positive, please notify your coach and league administrator immediately, so the appropriate actions can be taken regarding upcoming games and practices. Your personal identity will not be shared with anyone.
Interested in being one of the coaches?
---
Questions?
For more information, email [email protected] or call 717.545.8485.