Loving God and loving people: It's a simple phrase, but it shapes everything we do here at Devonshire. Whether you're looking to connect with us through a Sunday-morning gathering, a Small Group, Little Lambs Preschool, one of our youth or children's ministry programs, or some other ministry event, it is our hope that you experience a gracious and loving people who have been transformed by the Gospel of Jesus Christ. We want you to know that you are welcome here, and we would consider it a privilege to serve as a place where you grow in your love for Jesus and others.
What to Expect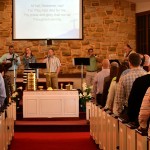 Our Sunday worship service starts at 10am.  Park in any of our 3 parking areas (map). Dress in whatever you're most comfortable in.  When you arrive, someone from our Greeting Team will meet you at the front door, and assist you in finding a seat.  If you are interested, they will help you find the right classrooms for your children too.  You will not be singled out during the service or asked to stand, but we encourage you to stop by our Guest Information Table (located in the rear of the sanctuary) to find details on Small Groups, Children's activities, and other ministry opportunities.
Directions
If you would like to visit us and need help with directions, click here.
Children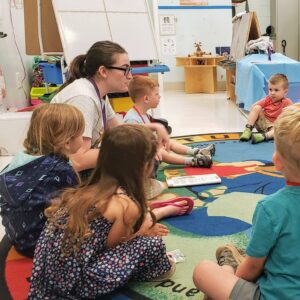 During our 10am service, nursery care is available for children under the age of three.  Preschool class is available, and elementary school children start the worship service with their parents, and are released around 10am to our Fellowship Hall for Children's Church with our DEVONSHIRE Kids Ministry.  Parents should pick up their children in person downstairs after the service ends.
More Questions?
If you have any other questions, please contact us.  We'd love to help!
---
Our Values and Beliefs
Since August 28, 1964, Devonshire Church has been about proclaiming Christ in our changing world. Our mission? Helping people find and follow Jesus by proclaiming the redemptive message of God's love.
Here at Devonshire, we believe that the Bible is the Word of God, and that it contains the only true way to our salvation. We believe that salvation is through faith in Jesus Christ, true repentance, the forgiveness of sins, and following after Christ. With that said, the following are some of values that shape us as a community of faith:
Worship: We are a church that worships Jesus and puts loving, following, and knowing him as our number-one priority.
Gospel: The Gospel as stated above is the center of who we are and defines and compels us. It is the good news of Jesus Christ that transforms us and has formed us.
Community: We are a church that strives after authentic biblical community.
Service: We are a church that engages in missions relevant to our surrounding community and in the different parts of the world advancing the Gospel and meeting needs.
Making Disciples: We are a church that is obedient to the Great Commission: making disciples locally and around the world.  In all our ministries, our aim is "to make disciples of all nations, baptizing them in the name of the Father and of the Son and of the Holy Spirit, teaching them to observe all that I have commanded you" (Matthew 28:19-20).
For more information on what we believe, click here.
---
What's next?
We'd love to have a chat and get to know more about you.  You can contact the church office with questions, or you can directly contact our ministry leaders to find out more opportunities for Children (infants – 5th grade), Youth (6th-12th grade), and Adults.  You can also find out how you can serve. Follow us on Facebook or Instagram for updates on upcoming events.