---
  7/8/2018 – New Ladies Study: The Quest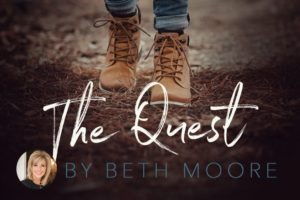 WHEN: Sundays at 9:00 am, July 8th – Aug. 26th
WHERE: Fellowship Hall
CONTACT: Leanne Gardner (717-421-8919, LEANNEMGARDNER@VERIZON.NET)
COST: Suggested donation for books is $10.  Please register in advance to reserve a book.
Join "The Quest"! In this 8 week excursion with Jesus, Beth Moore uses questions from Scripture to lead us into intimacy with the One who knows you best. Learn to dig into the Word, to respond to the questions of God, and to bring your questions before Him.
Learn to promote intimacy with God through prayer
Explore questions and responses from the Bible
Track your quest by journaling along the way
Learn to read and respond to Scripture
Special Event: On Aug. 12, guest speaker Julie Nevel will join us and share her testimony and singing.  Julie is an independent contemporary Christian recording artist based in the Harrisburg area.  SHe has ministered full-time for over 20 years throughout the U.S. and abroad as a worship leader, songwriter, speaker, concert artist, and pianist, and recently has become an author.
---
7/8/2018: New Men's Study – "Uncommon"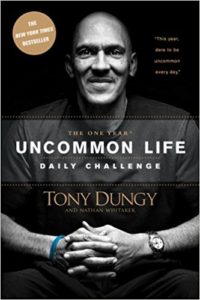 MEN: Dare to be UNCOMMON.  Join this study as we challenge each other to strengthen the core of your life and faith, from beloved Super Bowl-winning former head coach Tony Dungy! The One Year Uncommon Life Daily Challenge contains 365 reflections on living an "uncommon life" of integrity, honoring your family and friends, creating a life of real significance and impact, and walking with the Lord.
This year, step up to the challenge―and dare to be uncommon every day.
Contact Brent (brent@devonshirechurch.org) with questions.
---
7/16/2018 to 7/20/2018 – Shipwrecked VBS
For more information and to register click here
---
8/20/2018 – 8/24/2018 – Ministry Trip: Kentucky (Big Laurel, KY)
Application Deadline: Sunday, May 20, 2018 – to apply click here.
---
UPCOMING EVENTS AT DEVONSHIRE