Adult Ministries
Adult Ministries strive to provide opportunities for each adult at Devonshire to become more like Jesus. Our primary areas of ministry are focused on biblical instruction (Sunday school) and spiritual growth through community (Small Groups).
We also schedule seasonal opportunities for adults, including specific Bible studies for women and men, and the Men's Softball Team.
---
Small Groups
Small Groups are a laboratory for spiritual growth, where you dig deeper and participate in conversation. Groups meet weekly throughout the year, in homes all over the Harrisburg area.
---
re|engage – Married Ministry
We want to be pro-active in our strategy to build strong, healthy marriages.  God calls us to love above all else, and this has to start in our homes.  It takes work, but it can be fun!
---
Sunday School
Classes that are scheduled during the Sunday school hour (9:00-10:15am) aim to provide biblical instruction by studying the Bible and finding practical applications for it in our lives today.
---
 Men's and Women's Groups
Every few months, we schedule events and studies for both men and women.  Check the pages below for details on the next opportunity.
---
Bible Course – Understanding the Scriptures
This course provides a general introduction to the story and significance of the Bible, the foundational book of the Christian faith and one of the world's greatest works of literature.  Students will examine the Bible's nature, purpose, and authority; its historical narrative, cultural background, literary structure, and main theological concepts. Major emphasis is placed on understanding the overall storyline of the Bible as one grand narrative of redemption. It is intended as a foundation level course, suitable for those who have no previous knowledge of the Bible or Christian thought. 
---
LATEST POSTS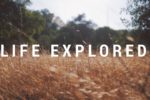 This seven-week free course gives you time and space in a friendly environment to think through how our deepest desires for happiness can only be satisfied in one person, Jesus Christ. • You don't need prior knowledge about the Bible. • You won't be asked to read aloud, pray or sing. • You can ask any question…