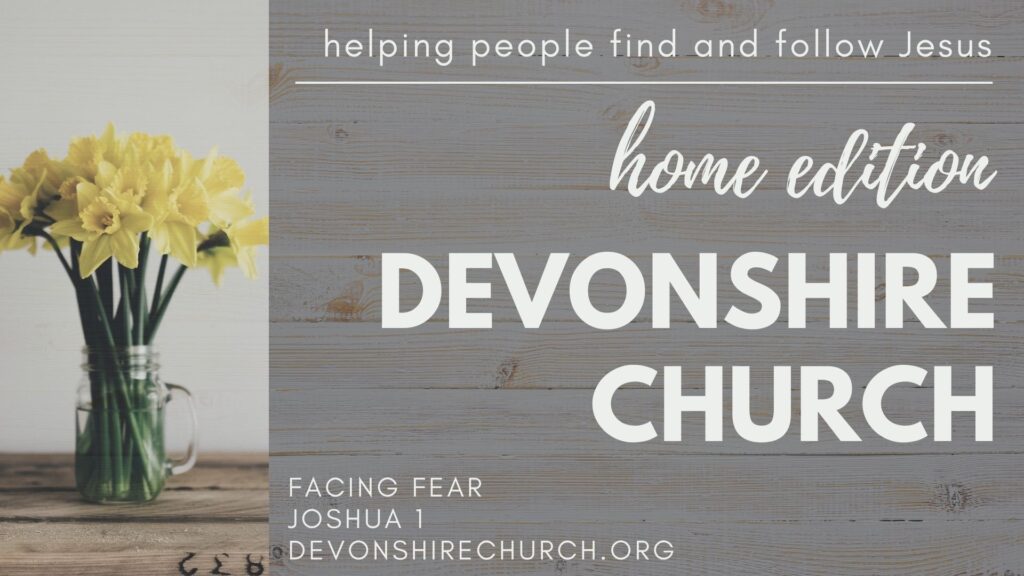 Good Morning, Devonshire Church!
Today and next Sunday we are back to offering only our weekly Worship Home Edition due to taking precautions to possible COVID-19 exposures in our church family, on Sunday, September 6, we are looking forward to gathering together with those who are able "in-person."
This week, it's my joy to have our lay leader, Brent McClintock, bring a message from Joshua 1 entitled, "Facing Fear." I pray that you'll be encouraged in these days to love one another and keep your eyes on the Lord through this week's home edition.
Church, let's sing, pray, recite Scripture, give, listen, and reflect/discuss together.
Below you'll find a guide for use with this week's home edition. Please read through the announcements below.
**If you have any prayer concerns/needs, that you would like to share with me, please don't hesitate to contact me. I and your church leadership love you and are here to serve you.
Your Brother in Christ,
Pastor Derek
Click Here to watch this week's Home Edition: https://youtu.be/ItV3ckUo-cM Audio: see below
WEEKLY BULLETIN
INFORMATION & RESOURCES
---
NEW TO DEVONSHIRE?
If this is your first time joining us online or in person, please take a moment to connect with us HERE. We are glad you chose to worship with us today and would love to learn a little more about you and how we can best serve you!
---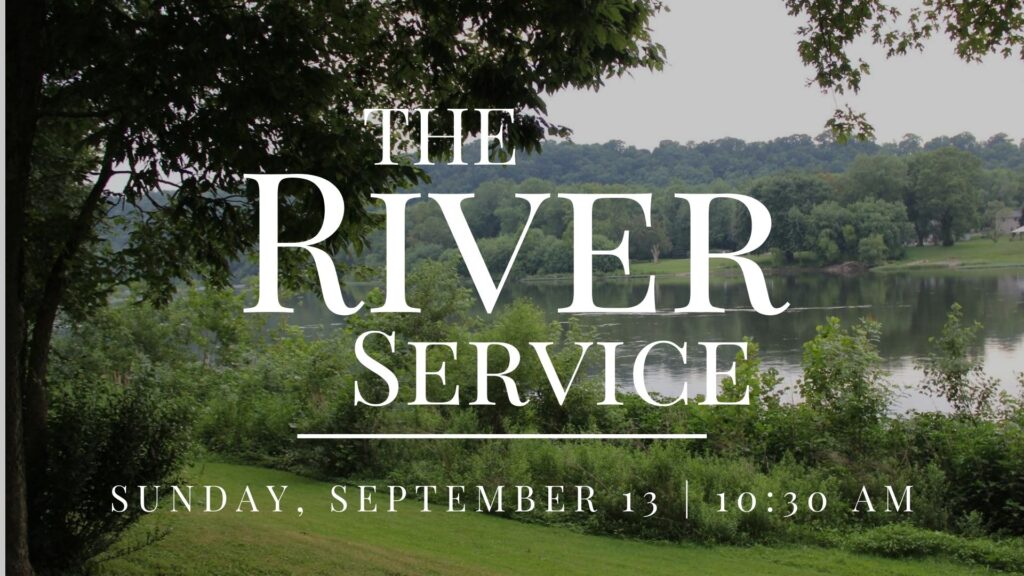 Plan to join us on Sunday, September 13 at 10:30am for a morning of outdoor worship all together as a church family. It will be held at Wade & Janet Archibald's property on the Juniata River. After the worship service, lunch will be provided. In order for us to have enough food for everyone, please let us know you are coming by clicking the picture above, by signing up at the Guest Information Table, or by texting RIVER to 717-275-0400. Also, bring chairs or blankets for your family to sit on.
---
WE NEED YOU!
In just a few weeks, summer will be winding down and we'll be getting ready for the fall season to begin. We are planning towards starting up some ministry opportunities for all ages on September 20.
As we plan towards that end, prayerfully consider how you'll engage and connect and spur one another on in the Lord. Specifically, consider being a part of our teams that will serve our children and youth ministries. Clearly, much in our world is different than it was a few months ago, but the mission and the calling haven't changed. May we continue to be faithful towards the mission of helping people know and follow Jesus.
If you are willing to serve on either our children's (nursery/preschool/children's church), youth ministry teams, or even as a small group leader, please contact Pastor Derek (derek@devonshirechurch.org) and he will connect you with the appropriate ministry leader.
---
IN-PERSON WORSHIP GUIDELINES
We have reopened our doors for worship! We are super excited to see everyone in person but we also want to take some temporary precautions to help ensure the safety of those who choose to join us. For more details on our current guidelines, please go to devonshire.church/covid.
---
PRAYING FOR OUR PARTNERS | THE BOOKS IN THAILAND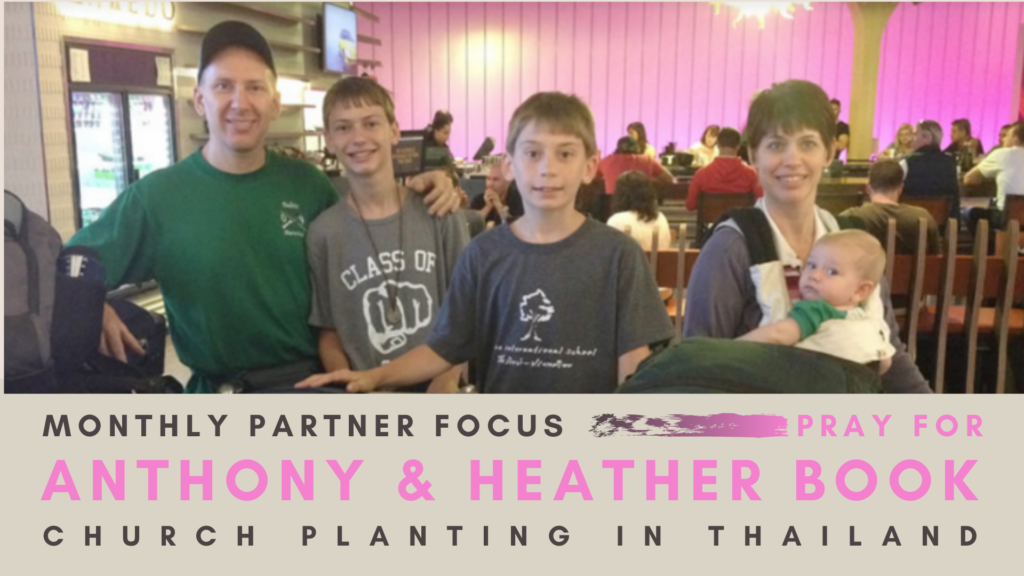 Click HERE for specific ways to be praying for the Book family as they continue to follow God's leading to plant churches in Thailand.
---
DEVONSHIREKIDS | CHILDREN'S RESOURCES
Parents, I want to encourage you to check out https://studio252.tv/ and https://orangekidmin.com/coronavirus/ there are resources to the curriculum that we use. Resources such as videos for the lessons that our children would be learning at Children's Church, and cues for you as a parent to take the lessons further throughout the week. Resources have also been posted on the DevonshireKids FB page.
---
NEED PRAYER/HELP?
And as always, if you have any prayer concerns/needs, that you would like to share, please don't hesitate to contact the church office at 717.545.8485 or derek@devonshirechurch.org . We love you and are here to serve you!
---
GIVING
As part of our worship, we respond by giving our tithes and offerings to God. You are able to give online at devonshire.church/give. There you will see a number of options for giving.
---
ORDER OF WORSHIP
---
Use the liturgy below as your guide while you watch this morning's Home Edition …
Here's a YouTube Playlist that includes the songs and message in order: https://www.youtube.com/playlist?list=PL7GJpzfndlNRlcsUVaZ7iB8e0gZHtjiTc
CALL TO WORSHIP
'I see that the Lord is always with me. I will not be shaken, for he is right beside me. No wonder my heart is glad, and my tongue shouts his praises! My body rests in hope. For you will not leave my soul among the dead or allow your Holy One to rot in the grave. You have shown me the way of life, and you will fill me with the joy of your presence.' -Acts 2:25b-28 NLT
SONG: In Christ Alone
CONFESSION/LAMENT
"Lord, this morning as we gather together-though apart- We praise you that you see us, you know us, and you love us. We also gather today with heavy hearts, Lamenting the evil at work in our world.
When we are apathetic to violence, forgive us. When we are numb to compassion, soften our hearts. When we are confused and bewildered, Comfort us. Be with us, Jesus.
Grant us the humility and the courage to be your hands and feet to our neighbors pursuing justice, loving mercy, and walking humbly with you. Come quickly, Lord Jesus. Amen.
SONG: Give Us Clean Hands
ASSURANCE
"We must believe that the heavenly Father will be gracious to us in Christ Jesus. To all who have repentance and who seek Jesus Christ for their salvation, I pronounce forgiveness in the name of the Father, the Son, and the Holy Spirit! Amen!" -From Calvin
GIVING
As God's prized possessions, let's take a moment and pass the virtual giving baskets. You can give online via Devonshire's website or snail mail.
SERMON
Video: https://youtu.be/ItV3ckUo-cM / Audio: see below
BENEDICTION
33 Oh, the depth of the riches of the wisdom and knowledge of God! How unsearchable his judgments, and his paths beyond tracing out! 36 For from him and through him and for him are all things. To him be the glory forever! Amen. -Romans 11:33, 36 NIV