What's one of the best gifts a church can give to its youth and teens?  We think it is parents with a thriving marriage.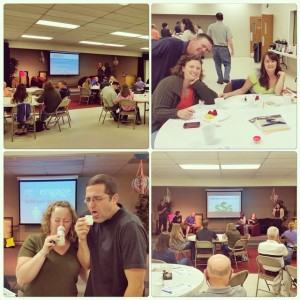 re | engage uses the marriedpeople strategy for the church to be pro-active instead of re-active.  We want couples to recognize the importance of a healthy marriage on their families and community, and understand the on-going, intentional effort that is required to maintain a healthy, thriving marriage.
SO WHAT DOES THAT LOOK LIKE?
We want to help you help your marriage.  We want this to be fun, and something we do in community with each other.
"Night Out" Events – Four times a year, we get together for a night of laughing and learning.  With some snacks, games, and short videos, we are reminded of ways that we can strengthen our marriages and love our spouses.
Date Nights – Everyone knows that it's important for couples to set time aside… and everyone knows how hard it can be to find the time and money.  These Date Night Challenges give couples easy, step-by-step instructions designed to make them talk, laugh and connect.  Free childcare provided!
Monthly Newsletter – Signup to receive this newsletter each month.  It is short, and full of ideas and great conversation starters for you and your spouse.
YOU SHOULD JOIN US!
Check the schedule below, and contact brent@devonshirechurch.org if you have questions.
Saturday, Nov. 18, 2017 @ 5:30pm (DATE NIGHT)
Saturday, Feb. 3, 2018 @ 6:30pm (

REGISTER BELOW

)
---
SUBSCRIBE FOR UPDATES!
Sign up to receive updates on upcoming events.  We'll notify you when our quarterly "Night Out" events are scheduled, and when
Subscribe for Email Updates!
---
 
Getting CLEAR on… Technology
Saturday, Feb. 3 @ 6:30-8:30pm
"In our technology-driven world, staying present in our marriage may be the most important and the most persistent work we ever do."  – Mo Isom & Jeremiah Aiken
Get CLEAR on what it means to have a great marriage in the middle of a noisy world filled with technology.  Technology is a part of our lives. Sometimes that's a good thing, and sometimes it's not. But technology is either of those things in and of itself, it's a tool. And we can use it to connect with our spouse more, or disconnect and distract.
And just for fun, since it's the day before the Superbowl… couples are encouraged (but not required) to come dressed as a team!  Represent your favorite team… together!  Any sport, any level (professional, collegiate, high school)!  Is "sports" not your thing?  Make up your own team!
 WHAT TO EXPECT
First off… expect to have fun!  You'll sit around small tables with your spouse and a few other couples.  We'll play some games, laugh a lot, and watch a short video diving into the good and bad that technology can bring to our relationships.  No one will be asked to share their issues… just enjoy and invest in your marriage!
CHILDCARE
Free childcare is provided at the church, for children ages 1 thru 5th grade.
REGISTER
The event is free, but we ask that you please sign up below to help us plan for childcare.
Register
QUESTIONS?
email_to
MarriedPeople Promo: CLEAR from PullSpark on Vimeo.