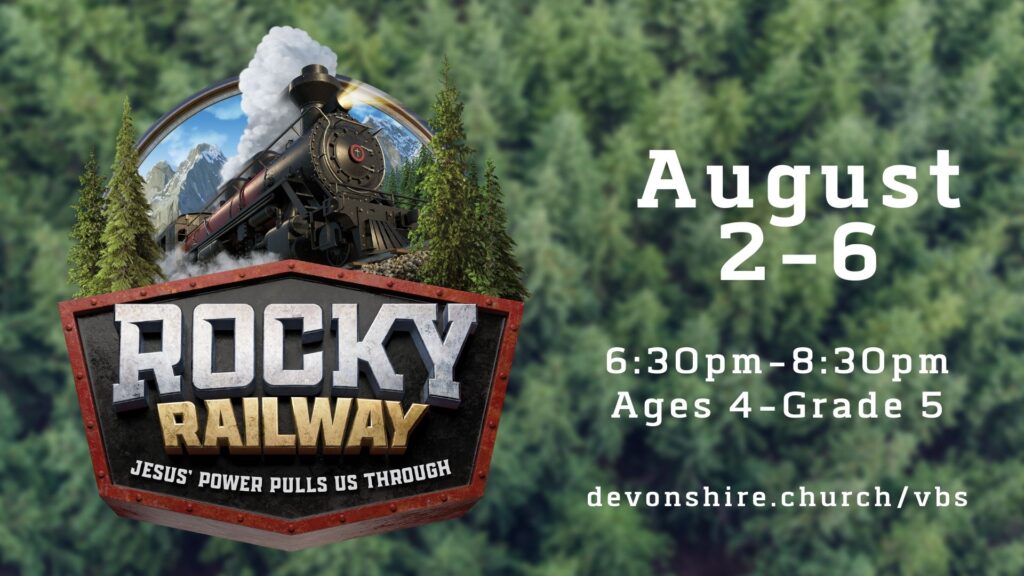 Rocky Railway – Vacation Bible School
Sunday, August 2 – Thursday, August 6
6:30pm – 8:30pm
For children ages 4 years old through fifth grade
*At this time, masks will be required except for during snack time, outside games, and other situations when we can physically distance.  
Climb aboard for mountains of fun at Rocky Railway! On this faith-filled adventure, kids discover that trusting Jesus pulls them through life's ups and downs.
Each day at Rocky Railway VBS, kids track through field-tested rotations that reinforce relevant Bible Points and immerse kids in new adventures.
See you this summer at Devonshire Church for ROCKY RAILWAY VBS!
Day 1: Jesus' power helps us do hard things.
Day 2: Jesus' power gives us hope.
Day 3: Jesus' power helps us be bold.
Day 4: Jesus' power lets us live forever.
Day 5: Jesus' power helps us be good friends.
REGISTER a child for VBS!