Sundays @ 9:00am, beginning January 8th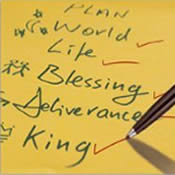 God is a promise-MAKING God. Throughout history, He has made huge, extravagant, wonderful promises to humanity. Crucially, God is also a promise-KEEPING God. What He says, He does. And at a particular point in history, He fulfilled all of His promises in the life, death, resurrection and rule of one human—Jesus, a carpenter from a small Jewish town. The good news is that God's promises are promises kept.
This class will take you on a rapid tour of the whole story of the Bible. Over nine sessions, you'll travel from the beginning of the past, through our present, to the future. Each session you'll discover one of God's wonderful promises, and see how He kept it in Jesus.
For those interested in studying during your personal devotions throughout the week, you can purchase the book on Amazon for $9.
A very good world – Genesis 1
Broken by rebellion – Genesis 3
Covenant promises – Genesis 12
Delivered from judgment – Exodus 12
Everlasting King – Judges 2, 2 Samuel 7
Future beyond judgment – Amos 8 – 9
God in His world – Luke 9, 24
Hear the message! – Acts 1 – 2
In a perfect world – Revelation 21 – 22
email_to