shire (6th – 12th Grades)
The Shire is the youth ministry at Devonshire Church for Middle and High Schoolers. We do fun, games, worship, and discipleship. Keep your eyes out for more information coming up for our Girls Group, and Guys Group (STOCK), as well as opportunities to serve, trips, and retreats. If you have any questions, don't hesitate to ask!
---
YOUTH EVENTS
Sundays: shire. Sunday School (9:00 am) Weekly
Wednesdays: shire. (6:30 – 8:00 pm) Weekly
---
Follow Us
facebook_account  twitter  instagram_account
---
LATEST POSTS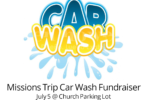 MISSIONS TRIP CAR WASH FUNDRAISER A car wash will be held here in the church parking lot this Saturday, July 5. Bring your car to the church for a wash and help support our youth.