WELCOME TO DEVONSHIRE
We are so glad that you joined us today as we have gathered to worship. It is our hope that you will find Devonshire to be an inviting community where you experience the transforming power of the Gospel. Our service normally includes a time of singing, prayers of confession, Scripture readings, followed by an opportunity to give tithes and offerings before hearing a message from God's Word. The following information will be helpful for connecting and worshipping with us today.
CONNECT CARD & GUEST INFORMATION TABLE | If you are a first or second time guest, or if you have never filled out a Connect Card, we would love for you to do so as a way to introduce yourself to us at the Guest Information Table (or, if you prefer, you may put it in the offering plate). If you have a question regarding the location of a class, the nursery, restrooms or an upcoming event, or are curious about what we offer for a ministry area, please stop by our Guest Information Table, located in the narthex.
GIVING | As part of our service, we respond in worship by giving our tithes and offerings to God. You are welcome to make a contribution at this time. For cash donations and special offerings, please use an envelope from the pew and write your name, the amount, and designated fund on it. You can also give at devonshirechurch.org/give.
FOR THE KIDS | Devonshire is a family-friendly church that believes children are a gift from God. During the worship service, nursery and preschool care are provided for the entire service.  Children, grades K-5, join with their parents for the first portion of the service and are dismissed following the giving time for an age-appropriate worship experience in the fellowship hall.
 Important Information
PUMPKIN EXTRAVAGANZA | The Shire and GLOW Ministries will be doing their annual pumpkin carving event on Wed, October 25 from 6:30pm-8:00pm.  Plan to stay this evening with your GLOW kiddos to help them carve a jack-o-lantern.  Siblings are welcome to stay and carve a pumpkin too! Carving tools will be provided. Dress accordingly for this outside event. S'mores over the campfire will be our snack!
GIFT BASKETS | If you know someone in our community who would be blessed by a holiday food basket, please submit a request to Junita Hannold by Sunday, Nov. 12. Please include your name/number and the family's name with a count of how many adults and children are in the home.  We ask that you deliver the basket the week of Dec 10.  Contact Junita (717-439-7002 or junitahannold2@verizon.net) with any questions.
OPERATION CHRISTMAS CHILD | OCC's mission is to provide local partners around the world with shoeboxes filled with small toys, hygiene items, and school supplies as a means of reaching out to children in their own communities with the Good News of Jesus Christ. If you would like to participate, please get a shoebox from the Narthex, fill it, and return to the church by November 12.  Contact Nichole (nichole@devonshirechurch.org) with any questions.
SHIRE FALL RETREAT – November 10 – 11 | Shire Youth Ministry will be having a fall retreat at Mt. Lou San. Cost is $20/student, and includes food, lodging, and games. We will begin Friday evening (after 4pm), and end by 7pm on Saturday. If you would like to attend, please see Stutz, or email youth@devonshirechurch.org to sign up.
RE|ENGAGE MARRIED MINISTRY IS HOSTING "THANKFUL FOR…" DATE NIGHT | This event is Saturday, Nov. 18 from 5:30-8:30pm.  NOTE: This is NOT our usual "Night Out" event held at the church. Instead, we are providing FREE CHILDCARE and want you and your spouse to enjoy a few hours together and re-connect before the stress of the holidays comes around the corner. For childcare, please REGISTER at devonshirechurch.org/reengage
HONDURAS MISSION TRIP INTEREST | If you are interested in being part of a team in 2018 that is headed to Honduras to serve our sister church, Iglesia Luz, please contact Nichole (nichole@devonshirechurch.org) by October 22.  This trip is for adults and high school students (accompanied by a parent) who have a heart to serve the people there.
NEW MEMBER ORIENTATION | If you have not yet taken the step of church membership here at Devonshire and are interested in learning about our membership process and what makes membership meaningful, contact Pastor Derek (derek@devonshirechurch.org)
SAVE THE DATE:
Church-Wide Roller Skating Party – November 8, 2017 @ 7:00pm
DMC Christmas Dinner & Cantata – December 3, 2017
Ministries
DevonshireKIDS (infant to grade 5) | Children's classes and activities are available during the 9:00 am Sunday School hour and 10:30 am worship hour.
GLOW Minstry (K-5th grade) | On Wednesday nights from 6:30pm-8:00 pm our GLOW Ministry (K-5th grade) meets in the fellowship hall for games, worship, snacks, and prizes.  Contact Laurie (glow@devonshirechurch.org) with any questions about this ministry.
The Shire Youth Ministries (middle and high school) | Come out weekly on Sunday mornings (9:00 am) and grow in your understanding of God's Word.  Also, join us Wednesday evenings for fun and fellowship from 6:30 pm-8:00 pm.
Adult | Join a Sunday school class and deepen your understanding of the Bible and your love for the Lord. These classes are held on Sundays from 9 am to 10:15 am. Current and future classes can be found at devonshirechurch.org/sundayschool.
Small Groups| Looking for a place to connect with other Christians?  Want to find encouragement in applying God's Word to your life?  Then join one of our new Small Groups! Check out the group descriptions in the narthex, or at devonshirechurch.org/smallgroups, then contact the group leader.
This Week at Devonshire
TUESDAY               
Women's Bible Study| 10:00am – 12:00pm (Library)
WEDNESDAY
GLOW | 6:30 pm-8 pm | Pumpkin Carving (outside)
The Shire | 6:30 pm-8 pm | Pumpkin Carving(outside)
THURSDAY
Choir Practice | 7:00 pm (Sanctuary)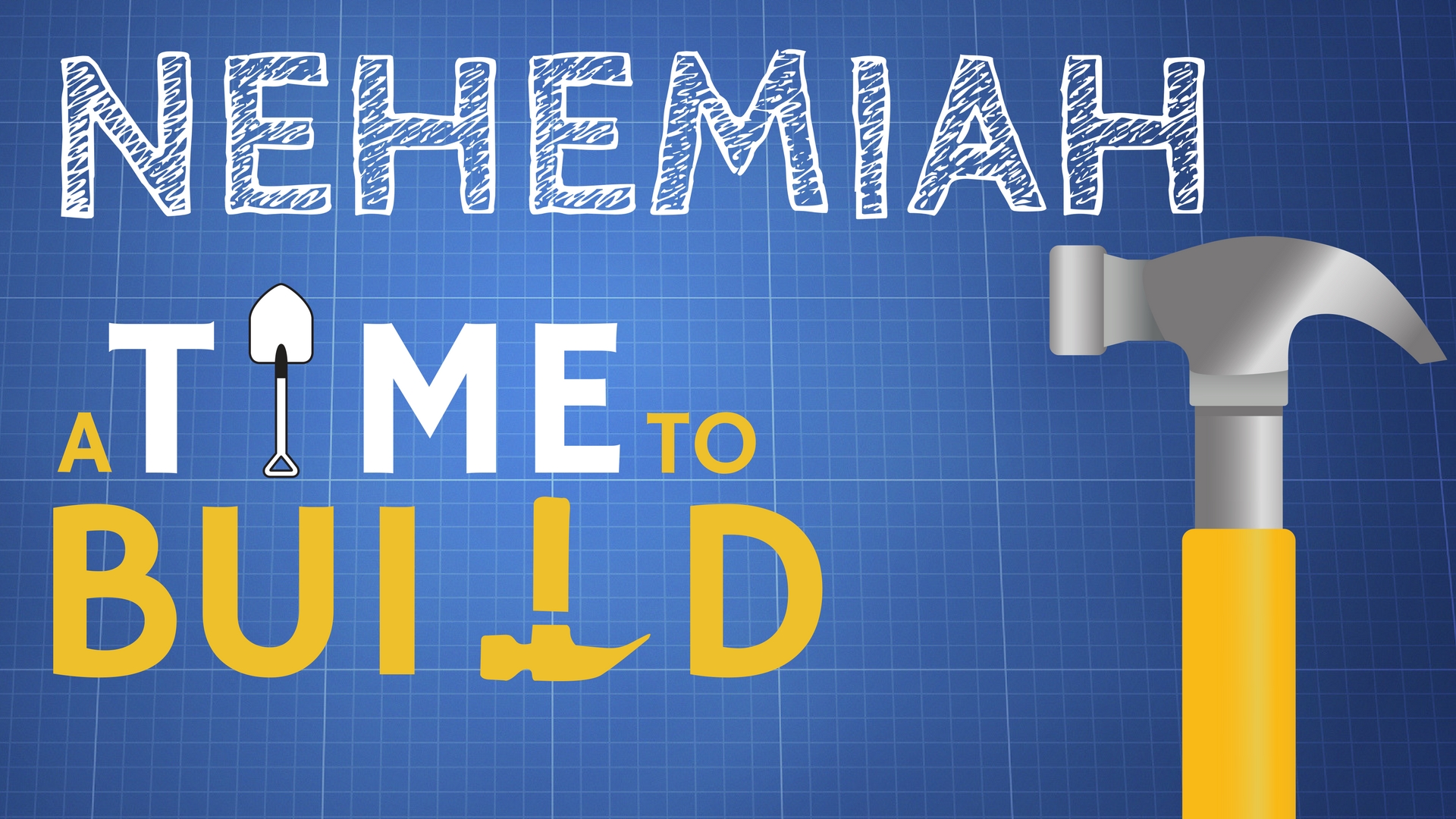 Title: Building with Courage
Text: Nehemiah 2:1-8
[1] In the month of Nisan, in the twentieth year of King Artaxerxes, when wine was before him, I took up the wine and gave it to the king. Now I had not been sad in his presence. [2] And the king said to me, "Why is your face sad, seeing you are not sick? This is nothing but sadness of the heart." Then I was very much afraid. [3] I said to the king, "Let the king live forever! Why should not my face be sad, when the city, the place of my fathers' graves, lies in ruins, and its gates have been destroyed by fire?" [4] Then the king said to me, "What are you requesting?" So I prayed to the God of heaven. [5] And I said to the king, "If it pleases the king, and if your servant has found favor in your sight, that you send me to Judah, to the city of my fathers' graves, that I may rebuild it." [6] And the king said to me (the queen sitting beside him), "How long will you be gone, and when will you return?" So it pleased the king to send me when I had given him a time. [7] And I said to the king, "If it pleases the king, let letters be given me to the governors of the province Beyond the River, that they may let me pass through until I come to Judah, [8] and a letter to Asaph, the keeper of the king's forest, that he may give me timber to make beams for the gates of the fortress of the temple, and for the wall of the city, and for the house that I shall occupy." And the king granted me what I asked, for the good hand of my God was upon me. (ESV)
Questions for Discussion & Reflection:
How did the Holy Spirit speak to you today?
How did the Holy Spirit speak to you today?
What kind of situations make you nervous or fearful? Why?
Think of a time when you risked rejection or failure to pursue the will of the Lord.  How did the good hand of God grant you favor?
Nehemiah uses his position of authority for the benefit of his people and the accomplishment of God's will, even at great personal risk.  What wrong thinking causes us to protect ourselves rather than risk like Nehemiah?
Read Genesis 39:2–4. Who is ultimately behind any and all of our successes?
What problem or situation in your life do you want to confront with greater boldness this week? How can Nehemiah's life serve as a pattern for you?
What implications does this passage have for our church family?
What are the implications of this passage for our church family? For our community?
Today's message and other messages can be heard at here.