WEEKLY BULLETIN
INFORMATION & RESOURCES
---
NEW TO DEVONSHIRE?
If this is your first time joining us online or in person, please take a moment to connect with us HERE. We are glad you chose to worship with us today and would love to learn a little more about you and how we can best serve you!
---
IN-PERSON WORSHIP GUIDELINES
We look forward to seeing everyone in person but we also want to take some temporary precautions to help ensure the safety of those who choose to join us. For more details on our current guidelines, please go to devonshire.church/covid.
---
SMALL GROUPS | GET INVOLVED!
Our small group ministry is kicking off the week of September 20. This is a great way for adults to get plugged in here at Devonshire. While other groups will be forming and details will be distributed in the next week or so, some groups that will be offered are the following:
Senior Class (Sundays, 10:30 am, Library): Looking for a place to connect with others through the study of God's Word? Join this class and find encouragement for life as you apply God's Word to your life, connect with others, and encourage each other through prayer & fellowship. (Leader: Jim Kafferlin)
Married Couples Group (Sundays, following church, Fellowship Hall): The focus for this small group will be to connect with and encourage married couples through a study by Chip Ingram entitled, Marriage: Built to Last. (Leader: Andrew and Sarah Kafferlin)
Men's Group (Every other Monday night at 7:30 pm beginning Monday, September 21): Looking for a place to connect with other men? Join this group and find encouragement as we journey through a study entitled, "Be A Godly Man," by Joby Martin. For more information and to sign up: devonshirechurch.org/men
Women's Group (Thursday evenings, online at 8 pm): More information and details will be coming in the near future.
---
PRAYING FOR OUR PARTNERS | THE FISHERS IN CHILE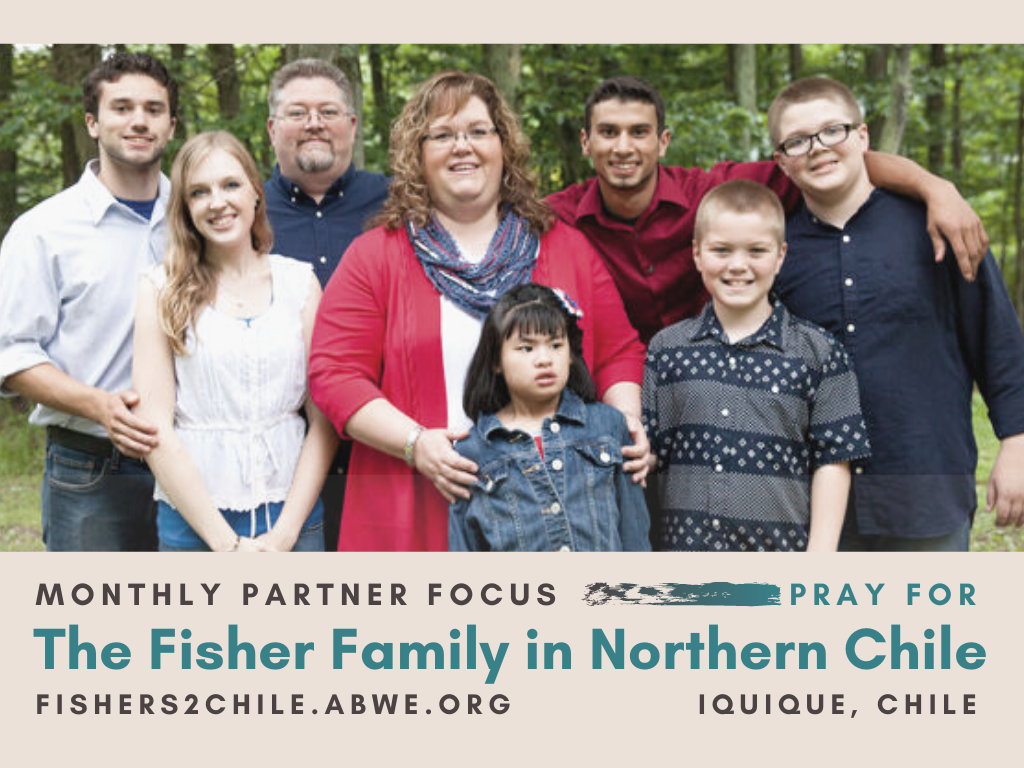 Click HERE for specific ways to be praying for the Fisher family as they continue to faithfully serve God in Iquique, Chile.
---
DEVONSHIREKIDS | STARTING BACK UP ON SEPT 20
On Sunday, September 20, during the 10:30 am service we are looking forward to offering nursery care, preschool class, and Children's Church for our children grades K-5. We look forward to ministering to our youngest again!
In the meantime, parents are encouraged to check out https://studio252.tv/ and https://orangekidmin.com/coronavirus/ for access to the curriculum that we use. Resources such as videos for the lessons that our children would be learning at Children's Church, and cues for you as a parent to take the lessons further throughout the week.
---
NEED PRAYER/HELP?
And as always, if you have any prayer concerns/needs, that you would like to share, please don't hesitate to contact the church office at 717.545.8485 or derek@devonshirechurch.org . We love you and are here to serve you!
---
GIVING
As part of our worship, we respond by giving our tithes and offerings to God. You are able to give online at devonshire.church/give. There you will see a number of options for giving.
---