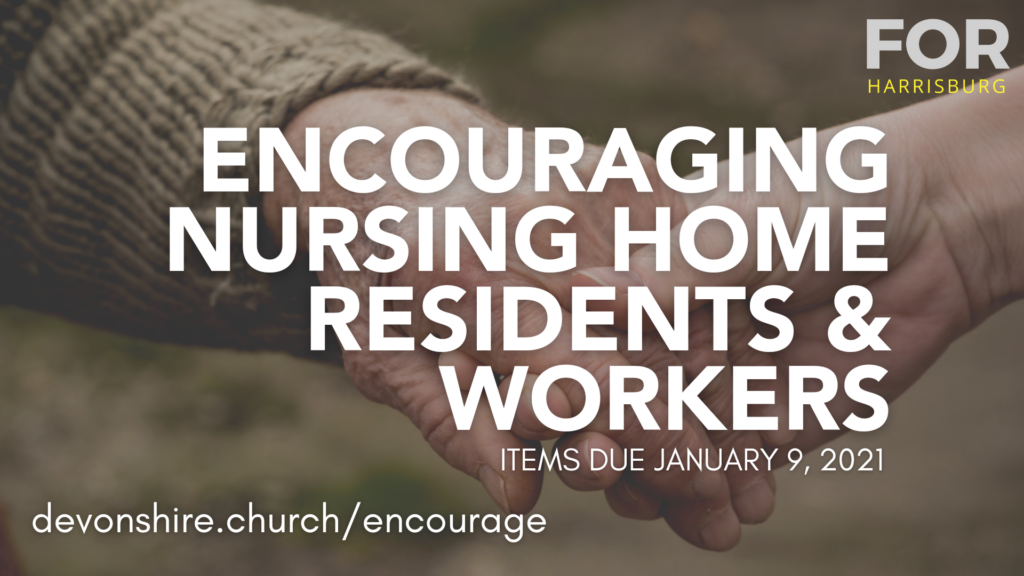 As a way to continue to bless the community around us during COVID times, we have partnered with several nursing homes and rehab centers to encourage others during the holiday season. We will be sending cards and care packages to the elderly who cannot see their families, and "thank-you's to our frontline healthcare workers. 
If you would like to get involved, we welcome you to make as many cards as possible for both frontline workers ("thank you's, words of encouragement, etc.) and residents (Christmas cards, words of encouragement, thinking of you, etc.)
We are collecting as many of the following items as possible as well:
(large print) crossword puzzles, sudoku, word search
pencils
fuzzy socks
adult coloring books
colored pencils
lotion
calendars
blankets
candy
Our goal is to reach as many people as we can through this service opportunity, so please join us as we encourage our brothers and sisters in Christ!
We are aiming to have all cards/items by January 10. 
If you are interested in getting involved or would like more details, contact Rachel Thrush at rachthrush@gmail.com or 717-903-2891.