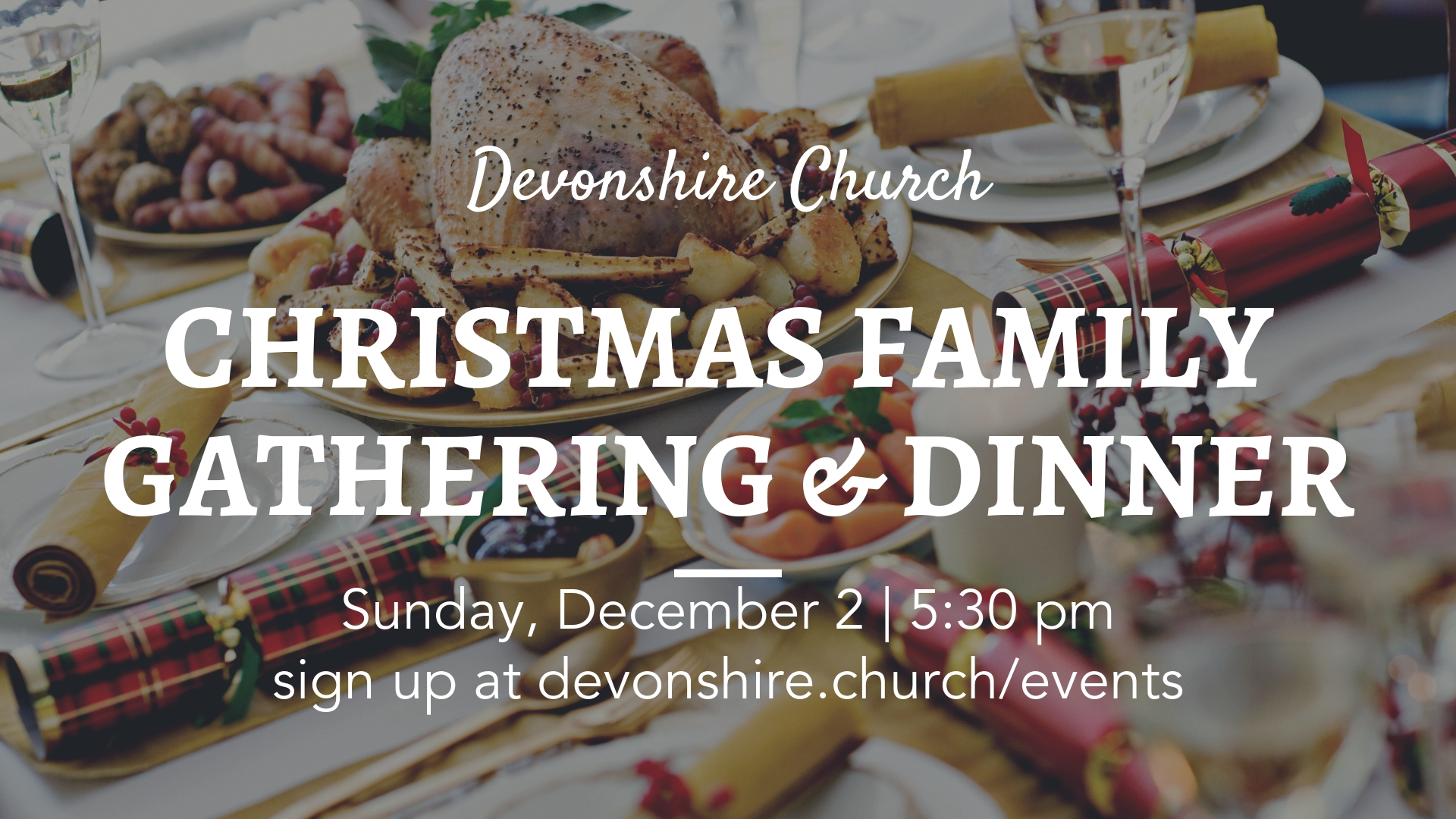 Here's a listing of the various events and activities that will be held during December at Devonshire.  Check out the schedule and plan to join us as we celebrate the birth of Jesus!
Christmas Dinner and Gathering
Sunday, December 2 @ 5:30pm
Plan to join us on Sunday, Dec 2 at 5:30pm for a church-wide holiday meal in the Community Center.  We will eat at 5:30pm followed by the choir's Christmas cantata. The meal will be provided.  Each family is asked to bring 2 dozen of your favorite cookies to contribute to the dessert table.  Childcare will be provided for kids ages 1-9 years old during the cantata.
---
Christmas Caroling
Sunday, December 9 @ 6:15 PM
From the church, we will travel to local families blessing them with some holiday cheer.  Afterwards, we will return to church for some warm drinks and snacks. The more the merrier!
---
Little Lambs Christmas Program
Tuesday, December 18 @ 6:30 PM   (Devonshire Church Community Center)
---
GLOW Family Night: Gingerbread Houses
Wednesday, December 12 @ 6:30 PM
An annual tradition at Devonshire… decorate a gingerbread house with all the icing and candy a child could imagine!  Sticky fingers and messy clothes are NOT optional.
---
 Christmas Eve Candlelight Service
Monday, December 24th @ 7:00pm
We invite you to step away from the holiday pressures and pace and join us at Devonshire Church on Christmas Eve and experience the Christmas story through Bible readings, singing of carols, a brief message, and a candlelight service.
---
New Year's Party at Devonshire
Monday, December 31st
Join us to celebrate New Year's Eve as a Devonshire Family. We will have ping pong, pickleball, basketball, music and family fun for all ages. Join us in celebrating the new year. Can't wait to see you there!
*Bring along a snack for the night … and we'll provide the drinks!
Sign Up Here: https://churchteams.com/m/Register.asp?a=c3NrV2prOHl6RW89